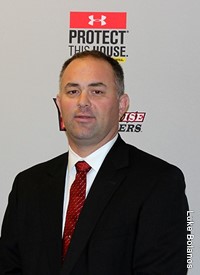 Dane Damron will enter his third season at the helm of the football program at UVa-Wise in 2018. In his first two seasons, he has guided the program to its first winning record since 2008 while posting an overall record of 11-11. It marks the first time the program has been .500 or better over a two-year span since the team posted a 14-8 record over the 2008 and 2009 campaigns.
Under Damron's direction, UVa-Wise saw improvement in numerous facets of the game. The Cavaliers rushed for 1,233 yards in 2016 before gaining 1,299 yards on the ground in 2017. This comes after the program posted just 767 yards on the ground in 2015. Through the air, UVa-Wise has passed for at least 2,500 yards in each of Damron's first two seasons. In the two prior seasons, the team averaged 2,259 passing yards per game.
On defense, UVa-Wise has intercepted 15 passes in each of Damron's first two seasons. The increased interception total has allowed the program to finish -2 and -6 in the turnover battle each season. Prior to Damron's arrival, the Cavaliers were -23 in the turnover battle in 2015.
The turnaround has resulted in a plethora of awards for football student-athletes. Linebacker Zachary Blair earned Second-Team All-America acclaim, in addition to First-Team All-Region and First-Team All-MEC honors as a senior in 2016. Meanwhile, placekicker Trent Martin joined Blair as an all-region and all-conference pick while tailback Carlton Griffith and defensive back Ed Kargbo earned All-MEC Honorable Mention acclaim that same season.
Last fall, offensive lineman Will White, linebacker Donavan Montague, Kargbo, defensive back Andre Hamilton and kick returner Marquis Hamilton were named All-MEC Second-Team honorees.
Hamilton returned two kicks for a touchdown while averaging 37.1 yards per return, he finished one kick return shy of qualifying as the national leader in the category.
In the classroom, Montague was named CoSIDA Academic All-District. The linebacker posted a 3.57 grade point average as a biology major and was inducted into the school's elite Darden Society.
Named the fourth head football coach in school history in December of 2015, Damron came to the College after a seven-year stint at Eastern Kentucky University.
With the Colonels, Damron spent five years as the team's offensive coordinator. A 22-year coaching veteran, he has been known for his offensive prowess. In his final season at EKU, Damron's offense set a NCAA FCS record for offensive snaps in a game with 123 against Murray State. In 2012, the Colonels averaged more than 200 rushing yards and 200 passing yards per game. The Colonels rushed for at least 1,700 yards in each of Damron's five years directing the offense.
During Damron's tenure as offensive coordinator, EKU posted at least six wins in all five seasons he oversaw the offense. The Colonels tallied eight wins in 2012 before posting nine victories in 2014. Overall, Damron's teams recorded 69-47 wins and losses during his collegiate coaching career.
Damron began his coaching career as a graduate assistant at EKU in 1994. Following a stint at Morehead State, he became the offensive coordinator at George Jenkins High School in Lakeland, Florida. Later, he moved on to Lake Gibson High School in Lakeland where the school reached previously unchartered waters on the football field. The Braves won their first playoff game in school history and advanced to the regional finals in each of Damron's last two seasons as head coach.
Following his time in Florida, the coach returned to his native state of Kentucky to become the head coach at Boyd County High School in Ashland, Kentucky. Damron's track record of success continued with the Lions as they won a playoff game in three consecutive seasons. The coach returned to the collegiate ranks in 2007 when he accepted the head coaching position at Kentucky Christian University. The 2008 season marked the first-ever varsity football team in Kentucky Christian history.
Damron played collegiate football at Georgetown College (Ky.) where he aided the Tigers to the 1991 NAIA National Championship. A two-time All-American, the former quarterback is enshrined in Georgetown's Athletic Hall of Fame.
Damron obtained a bachelor's degree in marketing and finance from Georgetown College before later earning a master's degree in sport administration from Eastern Kentucky. The coach and his wife Delisha have two children – Hanna and Derek.